---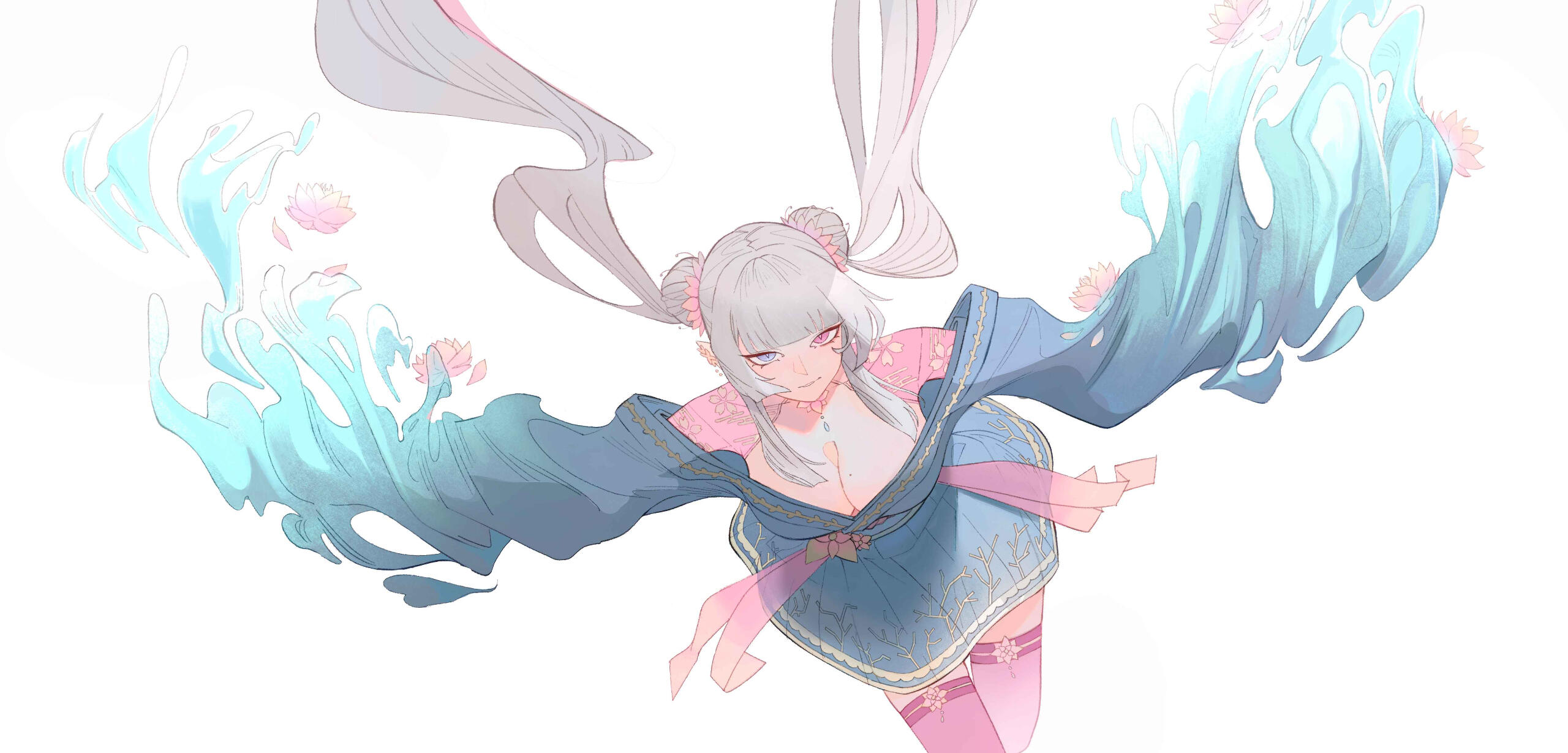 ✦

ellireii

✦

♡ digital artist | pngvtuber ♡
---
Commissions status ✦

OPEN
queue/waitlist ✦ can be viewed here
---
---
Last Updated: 09.02.2023
Subject to Change Without Notice.
terms of service
---
✦ DISCLAIMER | USER AGREEMENT ✦• By purchasing my services (art), you automatically agree to the following conditions.
• Please read this entirely and carefully. I will refuse your commission if you do not agree to these terms.
• If you are not comfortable with my Terms Of Service and/or are not willing to agree to the conditions, you may not request a commission.
• I do not allow my art to be used for AI purposes and alike. Please DO NOT upload it to any AI sites as this could compromise my artwork.
• NFT usage is strictly forbidden.
• If you have any questions, please contact me.
• By commissioning me, you agree that you have read and accepted all the terms described herein.
• You will agree here to the policy of using the art for personal, non-profit purposes unless otherwise stated, and provide all image credits to me.
• Violators will be added to my blacklist indefinitely and without warning.✦ GENERAL INFO ✦• You are only purchasing my services and the digital file. Not printed art.
• I own the Artwork, so I may do whatever I wish with the art, for example; Post it to other sites such as Instagram, Twitter and Patreon. Or present it in future art books/ Portfolios etc.
• You may re-post an image from me with proper

credit

and do not claim it as your art!
• You can use your commissioned art as decoration for your social media as long as it's a personal account and you're NOT making any profit from it and /or as a way to get attention. Vtuber/PNGTuber accounts are counted as commercial use as per they're promoting themselves. (Please check out my

commercial

section down below).
• I will send you the full resolution picture (by email or through a google drive link), but my Signature will remain on it somewhere small.
• DO NOT ask me to draw in a different style.
• I reserve the right to cancel/decline your order If I don't feel comfortable drawing it or you have been proved troublesome in any way.
• You are free to print out the commission or even make whatever merchandising you want as long as it's for your personal use only and not for sale.
• Prices are subject to change based on demand.✦ ORDERING AND PAYMENT ✦• Completed forms are considered first. Please fill up the "order form" which you can find in the Commission section. You will be put in the "waitlist" section on my Waiting List after doing so.
• References must be clear and I prefer them full in color. Sketches with color descriptions are okay too. However, "only description" commission counts as character design, therefore an additional fee to pay.
• After sending your order to me and discussing the price I will send an invoice through

PayPal

to you. I will receive

full payment

before starting the commission. You'll be put in the "queue" section on my Waiting List and will have your slot secured. The high-quality files will be sent to you via google drive link or email once it's finished.
• I will initiate the transaction to avoid accidental transactions. Do not send me any kind of payment until I have confirmed I can accept your commission and have asked for payment.
• If payment is not made in a timely manner (24h) after I've placed the Invoice, the commission will be cancelled and you will be put back on the "waitlist" section.
• I do not accept refunds after agreeing to TOS, sending form and your payment.✦ CHARGEBACK ✦• You are NOT authorized to issue a chargeback for any reason.
• If for any reason your PayPal account malfunctions or authorizes a refund request without your knowledge, you must contact me as soon as possible in order to resolve the issue.
• You are required to contact me when you need to cancel a commission request.
• Purposefully issuing a chargeback without contacting me to cancel/refund a project will result in immediate blacklisting for you as well as your email address, and anyone sharing your PayPal account, including side accounts.✦ COMMERCIAL USAGE AGREEMENT ✦• If you, the Client, wish to order a commission for Commercial use, the total price of the commission, as well as any other royalties, will be agreed upon upfront.
• I still retain rights to the artwork I produced. I am free to post the commission to a portfolio and use it in self-promotion. Do not remove any watermarks/signatures.
• The following cases are considered commercial use: Reproducing and selling the artwork; publicly or privately. As stated before, cases where you receive profit and /or get attention/exposure from a medium/platform where you have posted my artwork.
• TIER 1 -

2.5x price

; e.g. promotional material, game assets, Twitch/YouTube/Twitter promotion (schedules for streams, starting/brb/ending stream screen, banners etc.), avatar on social media etc.
• TIER 2 -

4x price

; reproducing, selling, merch (body pillow, postcard etc.).
•

"PRICE"

- summed up every detail. Example: price (complex design + specific background + bust/full shading) x 2.5 = full price✦ WORK SPEED ✦• I usually take up to 3-5 days to respond to your initial order inquiry.
• The time for the regular commission to be completed can be up to 2 months. Vtuber commission - between 2-5 months. There is a possibility to finish them faster but it depends on the amount of orders I do have and on my health.
• If there's a deadline, please inform me beforehand. I have the right to decline a project if there is too short of a time allowance.
• If due dates are discussed, it is also the clients' responsibility to ensure prompt communication. I will not be held responsible for late delivery.
• No harassment over my work speed will be tolerated, regardless of the time that has passed.✦ ART PROCESS ✦• I will send a WIP ('work in progress') image after 100% of the payment is completed.
• The sketch phase is your chance to tell me what you want to be changed: expressions, details, pose, etc.
• You can ask for other updates whenever you want to up to 3 times, while I'm working on your project. Don't hesitate to leave any feedback regarding changing any details at those stages.
• Once the picture is finished I can do small changes such as color adjustments and/or adding tiny details I may have forgotten.
• I will only make changes to the final piece if it was an error on my part (i.e. I missed a detail that you had provided in the order).
• Any great changes after you have previously approved will come with an extra charge (

$50 fee for one element

).✦ RUSH FEE ✦• I am able to accept a rush commission that would bring your queue up forward significantly. It all depends on how many orders I have at the moment.
• Rush fees are at least + 25% of the commission. Fees might vary depending on the project and the time frame provided.
---
Credit for the Terms of Service goes to @yoclesh/ @kawa_kunn
Thank you for letting me use some parts of yours!Copyright © 2020-2023 Ellireii. All rights reserved.
---
---
commissions
---
✦ IMPORTANT ✦• By commissioning me, you agree to the Terms of Service.
• I only accept payment via PayPal in USD. One Slot means one Commission per person.
• You can contact me via email ([email protected]) if you have any questions.•

I WILL/CAN DRAW

: fanarts, oc's, slightly NSFW (sexy poses, feminine characters), backgrounds, animals/pets/ companions, complex designs, androgynous characters, anthro characters.
•

I WON'T/CAN'T DRAW

: furry characters, mecha, old people, complex furniture, bara, gore (bruises and blood is ok), complex armor.
✦ ILLUSTRATION COMMISSIONS ✦
❈ These are starting prices, and prices are subject tochange according to customer requirements.

• Simple background - free (color filled, small elements).
• Specific background - price depends on the complexity. Roughly from $10 to $80.• COMPLEX DESIGN comes with an extra cost depending on the difficulty. For example: very long hair, complex hairstyles, horns, wings, lace, weapons, props, complex clothing patterns, tattoos, many details, small animal character, blood etc. Price goes roughly from $10 to $100.• Additional human character 100% original price.• Designing an outfit and character comes with an additional fee from $50 to $100.• Rush fee - at least + 25% of the commission. Fees might vary depending on the project and the timeframe provided.• Commercial Use - Check out my T.O.S!
---
✦ LIVE2D ART MODEL COMMISSIONS ✦
❈ Commercial Fees included - Price subject to change according to the Character's Details.

Standard model includes:
• PSD model art file ready for rigging
• PNG file of model artwork
• 3 Expressions of choice
| Type | Price |
| --- | --- |
| HALF-BODY | $400 |
| FULL-BODY | $600 |
| Additional | Price |
| --- | --- |
| EXPRESSIONS | $20~each |
| HAND/ARM VARIATIONS | $40 - $80 |
| EXTRA HAIRSTYLE | $80 - $200 |
| EXTRA OUTFIT | $100 - $300 |
| DESIGN COMPLEXITY (e.g. wings, animal ears etc.) | $20 - $300 |
| CHARACTER DESIGN(commercial rights included) | $200 - $400 |
---